There is an amazing (though slow-loading and annoyingly formatted) page over on TrainWeb.org about the Brooklyn Eastern District Terminal, which was located on what is now the East River State Park in Williamsburg. I first knew it—in the early 90s when I moved to Brooklyn—as a dump (allegedly "recycling transfer station") that was only partially fenced, and that not very convincingly. When we wanted to be near the water to watch Fourth of July fireworks or just find a rare August breeze, we'd head over there to wander amidst the ruins of the old railroad terminal.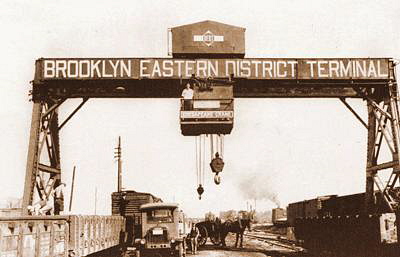 The N 8th Street Gantry (photographer unknown)
Of course I'm pleased there's a real park without the garbage and mess where everybody can watch the sun set behind one of the most amazing views in the world, but I'm a little sad that nearly all traces of the former Eastern District Terminal are erased (though a sign does explain the history of the place). Take a look at these photos–they're worth the wait.
This entry was posted on Thursday, April 21st, 2011 and is filed under
architecture
. You can follow any responses to this entry through the
RSS 2.0
feed. Both comments and pings are currently closed.